Artificial Grass: a great addition to your Glasgow home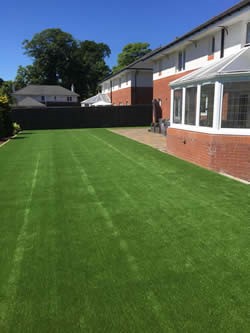 You wouldn't think that a discussion regarding artificial grass could cause such emotion! But, when researching artificial grass for your Glasgow property, you may find that people are most definitely for or against the addition of synthetic grass to your garden.
Perfect addition in many gardens
Here in the UK, we have not been too used to using artificial grass in domestic gardens but in other areas of the world, they have been using artificial grass for some time.
Grass is a hardy plant but it does take some looking after, especially if you want a green, lush looking lawn. As soon as the temperature increases and the sun shines, the lawn can soon start to suffer with parched, brown spots becoming apparent very quickly. However, with watering and mowing, the grass can look green once again.
But, many busy families are finding that the time needed to spend on the lawn to keep it looking at its best takes too long.
Children playing, along with the outdoor toys can also take its toll on the green lawn. Pets can also be hard on the grassed areas of our gardens.
Artificial grass for your Glasgow garden could be the perfect solution!
It takes little if any maintenance to keep it looking at its best. And, the good news is that it takes very little time to lay your new artificial lawn.
Preparation: the old lawn needs to be 'lifted' and flattened to make a flat surface for the artificial grass to be paid on top. Usually, a layer of sand is added to create the smooth barrier layer needed. This layer ensures that no weeds or other invasive plants can grow through your new synthetic lawn to spoil the appearance of it.
Installation: artificial grass is supplied in rolls or sheets, and they are cut and laid in such a way that it is virtually impossible to seen the joins between one sheet and the next. What you will soon have is a lush, green lawn of which you will be very proud.
Some people don't like the idea of artificial grass but it is robust and sturdy, adding much need visual appeal to many gardens. They provide safe areas for children to play on and even the harsh treatments at the paws of pets will not damage it!
If you think that your Glasgow garden will benefit from the addition of artificial grass, then contact local company S&D Projects.
Where We Can Help
S&D provide an artificial grass service throughout the Greater Glasgow Area including:
Glasgow, Paisley, East Kilbride, Rutherglen, Bearsden, Cambuslang, Newton Mearns, Clarkston, Giffnock, Milngavie, Mearnskirk, Stamperland, Eaglesham, Strathaven, Shawlands, Cathcart, Kingspark, Croftfoot, Thorntonhall, Bellshill, Bishopbriggs, Blantyre, Kilmarnock, Wishaw