Sunroom – the perfect addition to your Glasgow home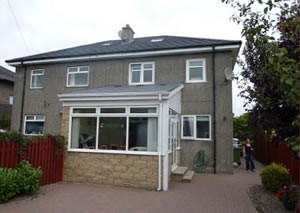 Sunrooms are similar to conservatories, favoured by many Glasgow homeowners for bringing in the garden, allowing them to enjoy warmth as well as exotic plants that they wouldn't otherwise be able to grow.
But, you need to get the sunroom constructed correctly so that you can enjoy the space all year round – not avoiding it in summer because it is uncomfortably hot or avoiding it in winter, simply because it is far too cold!
Bright and airy
The surrounding glass walls allow light to stream in, as well as opportunity for you to keep an eye on children playing in the garden or to allow the outdoors to be part of your Glasgow home. If you enjoy a view from your property, then sunrooms are perfect for soaking up the vista.
Versatility
Many of the rooms in our Glasgow homes have set uses for example, the bathroom, the kitchen, bedrooms all have set roles within the home and take money and time to change their use into something else. However, sunrooms offer great versatility for Glasgow homeowners. Some people use their sunrooms as relaxing, reading rooms whilst other people use them as social spaces, hosting dinners and family gathering. Other people use them as specialist areas such as indoor 'hot houses'.
Adds value
There is no doubt a well-built and well-placed sunroom will add value to your property both in terms of monetary value as well as in aesthetic appeal. Increasing living space within your Glasgow property is a sure-fire winner but it needs to be designed and constructed well. Having a sunroom that can be used across the 4 seasons is essential too.
But...
... if you crave privacy, then the open windows of sunrooms might not be the right room for you. There are ways of creating a little more privacy but if your sun room looks directly onto a busy Glasgow thoroughfare then you will have a passing audience.
... if you don't get the right insulation and ventilation, sunrooms can be little more than storage room on the side of your Glasgow property.
The best way to make sure you get the right sunroom that is fully functional and useable all year round is to engage a professional, knowledgeable company to design and construct your sunroom. S&D Projects are one such company that can help you create the perfect sunroom for your Glasgow home!
Where We Can Help
S&D provide a sunroom service throughout the Greater Glasgow Area including:
Paisley, East Kilbride, Rutherglen, Bearsden, Cambuslang, Newton Mearns, Clarkston, Giffnock, Milngavie, Mearnskirk, Stamperland, Eaglesham, Strathaven, Shawlands, Cathcart, Kingspark, Croftfoot, Thortonhall